Becoming seasonal with us,
is to belong to a small welcoming community where we rub shoulders with pleasure and respect every day.
The 2023 season is from May 12 to October 9; 150 days of occupation with the possibility of adding weeks at the beginning and at the end.
Base price, 2 services – 15 amp. $1995 
Base price, 3 services – 30 amp. $2140 
Extra land – 50 amp. $150
Extra waterfront $325
Extra week $75
Extra Golf Cart 100$
Seasonnal pass for an Adult 125$
Seasonnal pass for a child 80$ (5yrs and older)
Price is for a family including children under 20 years old.
2 dogs maximum per campsite
This package gives access to the site as well as to all its aquatic, sporting or other activities, with the exception of those indicated by ($).
(Note that applicable taxes must be added to these amounts)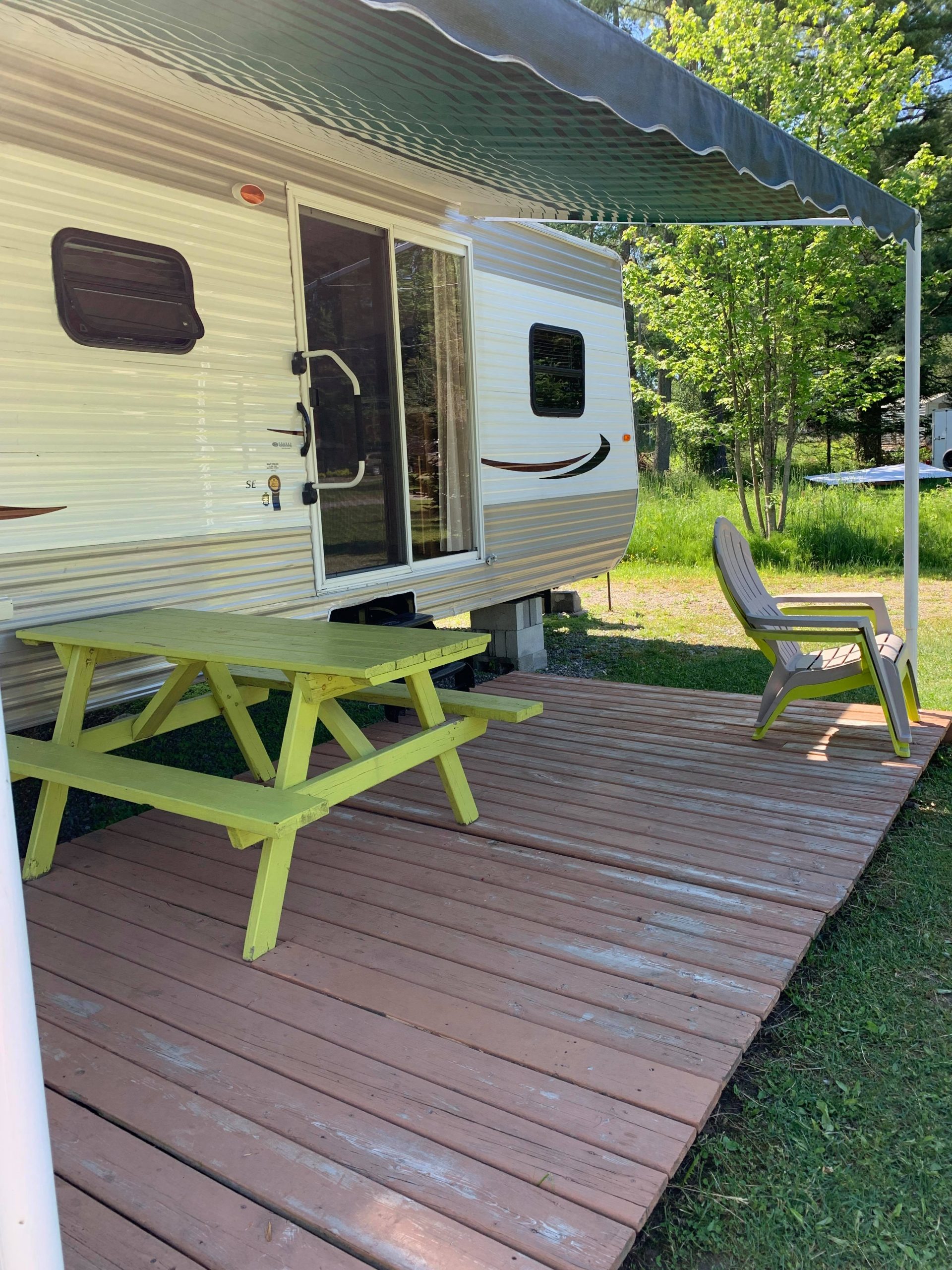 Other fees and obligations
The seasonal camper is the user/payer of his electricity consumption. Each campsite is equipped with an individual electric meter and the customer can follow his consumption. It is strongly recommended to take a photo of the electric meter at the start of the season and another at the end. A desposit of 200 is requestes at the opening of the season by credit card for electricity and the billing is adjusted at the end of the season.
If the tenant renews his rental contract for the following season, he may keep all his equipment on the rented lot, during the winter season at no extra cost.
A light shed with a maximum dimension of 10′ x 10′ can be installed on the lot. Note that no household appliance can be left outside. No canvas on the ground, or construction of wooden pallets, or concrete slabs will be tolerated on the lots. The landscaping of the lot is entirely at the tenant's expense and the latter has the obligation to maintain his lawn. Any construction or addition of shed requires management approval.
Your small animals are welcome if they respect the rules of the campsite
Be on a leash at all times
Picking up feces immediately
No excessive barking or aggressive behavior
A deposit of $500 is required upon reservation of the land.
This deposit is non-refundable.
The balance is payable in 6 instalments, November 1, December 1, February 1, March 1, April 1 and May 1. In any case, the season must be paid in full before the begenning of the season.
PLEASE READ THE REGULATIONS AVAILABLE AT THE BOTTOM OF THE PAGE AS IT IS AN INTEGRAL PART OF THE MEMORANDUM OF UNDERSTANDING.